Canoga Perkins 2345 Fiber modem
optically extends T3 DS3
Canoga Perkins 2345 Fiber modem for DS3 extensions
Optically Extend T3 and DS3 Up To 100km
Can be use to tie building communications together at the T3 - DS3 level

The perfect solution for the Telco Demark in the wrong place or even the wrong building.
The 2345 DS3 Fiber modems will let you extend end points out to 100KM.

Canoga Perkins 2345
T3 DS3 Fiber modem

The EdgeAccess®

Canoga Perkins 2345 DS3 Fiber modem is an SNMP managed multi-featured fiber optic modem that optically extends standard T3/DS3 (44.736Mbps) over single mode or multimode fiber optic cable. It is designed to enable Service Providers, Carriers, Government, Military and Corporate Enterprise to expand the capabilities of their existing data communications infrastructure. The 2345 transports any B3ZS coded, framed data stream and provides a transparent link extension when transporting C-bit Parity and M13 framed signals. It is available as a standalone and as a rack-mount card with modular, hot-swappable, and interchangeable Optical Line Interface Modules (OLIM). The rack-mounted card is part of the Universal Chassis System (UCS). SNMP support is available for both the rack-mount and the standalone versions with end-to-end monitoring and configuration facilitated via the Side-band Management Channel. The network manager can gather statistics and link information from the remote end. Software upgrades can be downloaded remotely.

Features of the DS3 Fiber Optic modem

| | |
| --- | --- |
| | Optically Extends T3/DS3 Up To 100km |
| | Single Mode and Multimode Fiber |
| | Performance Monitoring Per ITU-G.826 and RFC2496 |
| | Supports B3ZS Line Coding and AMI Pulse Coding |
| | Supports M13 and C-bit Parity Framing Formats |
| | Transparent; Passes FDL and FEAC Overhead Bits |
| | VT100, SLIP, PPP, and SNMP Management Support |
| | End-to-End Side-band Management |
| | Modular With Hot-swappable and Field Replaceable OLIMs |
| | Features Optical and Full Modem Redundancy Options |
| | Local and Remote Loopback Diagnostics |
| | Input and Output Alarm Relays |
| | NEBS Level 3 Tested and Certified |




Canoga Perkins 2345
Fiber modem

To reduce critical circuit downtime, fiber path and full hardware modem redundancy options are available. In each option, failure in the primary causes an automatic switchover to the secondary fiber link. The 2345 DS3 Fiber Optic modem is ideal for extending T3 from the telco demarcation point and WAN, as well as extending interconnection between T3 multiplexers. For applications that require multiple modems, refer to the Universal Chassis System (UCS) data sheet.

Specifications of the Canoga Perkins 2345 T3 DS3 Fiber modem
DIAGNOSTIC LEDs
Status (STA), Configuration (CFG), Composite
Loss of Sync (CLS), Test/Loopback (TST),
Loss Of Sync (LOS), Local Pattern String (AIS),
Optical Signal Quality Level (SQL)

SWITCHES
Recessed Reset (Standalone and Rackmount)
Loopback and Console (Standalone)

ALARMS
Dry Contact Output and Alarm Input (Both)
Alarm Input (Standalone)

REDUNDANCY
Fiber Path or Full Modem

PHYSICAL
Dimensions
Standalone
1.7"H x 8.5"W x 11.5"D
(44 x 215 x 292mm)
Rackmount
1.0"H x 7.9"W x 10.4"D
(25 x 201 x 264mm)

Weight


Standalone 3.2 lbs (1.45kg)
Rackmount 1.2 lbs (0.54kg)

POWER
Standalone
90 to 275VAC, 47 to 63Hz Auto-ranging, 10W Max.
38 to 72VDC, 9.1W Max.
Rackmount
10W Max. (See UCS 1000 Specifications)

OPERATING ENVIRONMENT
Temperature 0° to 50°C
Humidity Up to 95% (Noncondensing)

ELECTRICAL CONNECTORS AND IMPEDANCE
BNC 75 ohm Unbalanced

OPTICAL INTERFACE CONNECTORS
ST 850nm LED
ST, SC, FC/PC 1310nm/1550nm Laser

MANAGEMENT
Local Terminal (VT100)
SNMP Through Dial-in for Standalone
SNMP Through UCS for Rackmount

Canoga Perkins 2345 Fiber modem


optically extends T3 DS3 over fiber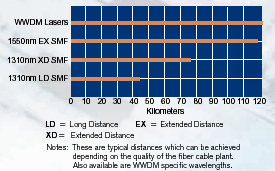 EdgeAccess® 2345 T3 Fiber Optic Modem
MODEL
DESCRIPTION
Base Unit Including Electrical Interface (requires L123 or L122 OLIM)
2345-2000
Rack mount for Chassis installation
2345-1100
Standalone with SNMP, 120-240 VAC power supply
2345-1400
Standalone with SNMP, -48 VDC power supply
Optical Line Interface (OLIM)
L123-1321
1310 nm Laser, SM/MM*, 17dB, ST connector
L123-1322
1310nm Laser, SM/MM*, 17dB, FC/PC connector
L123-1324
1310nm Laser, SM/MM*, 17dB, SC connector
L123-1331
1310nm Laser, SM/MM*, 26dB, ST connector
L123-1332
1310nm Laser, SM/MM*, 26dB, FC/PC connector
L123-1334
1310nm Laser, SM/MM*, 26dB, SC connector
L123-1531
1550nm Laser, SM, 26dB, ST connector
L123-1532
1550nm Laser, SM, 26dB, FC/PC connector
L123-1534
1550nm Laser, SM, 26dB, SC connector
Dual Path-Redundancy OLIM (for redundant path configurations only; not required for full modem redundancy)
L122-1321
Redundant, 1310nm Laser, SM/MM, 17dB, ST connector
L122-1322
Redundant, 1310nm Laser, SM/MM, 17dB, FC/PC connector
L122-1324
Redundant, 1310nm Laser, SM/MM, 17dB, SC connector
L122-1331
Redundant, 1310nm Laser, SM/MM, 26dB, ST connector
L122-1332
Redundant, 1310nm Laser, SM/MM, 26dB, FC/PC connector
L122-1334
Redundant, 1310nm Laser, SM/MM, 26dB, SC connector
L122-1531
Redundant, 1550nm Laser, SM, 26dB, ST connector
L122-1532
Redundant, 1550nm Laser, SM, 26dB, FC/PC connector
L122-1534
Redundant, 1550nm Laser, SM, 26dB, SC connector
Rack Adapters for standalone modems
A001-9001
19" Rack Mount Kit for single modem
A001-9002
23" Rack Mount Kit for single modem
A001-9003
19" Rack Mount Kit for 2 side-by-side modems
A001-9004
23" Rack Mount Kit for 2 side-by-side modems
A001-9005
Wall Mount Kit
Cables
C002-000
BNC "Y" Cable for Full Modem Redundancy
C001-000
Cable for Redundant Standalone Modems
SPARE USER MANUAL for Model 2345
2345-UM
see other T3 DS3 fiber optic modem pages