Features

| | |
| --- | --- |
| | G.703 Compatible E1/T1 Interfaces |
| | Internal/external/slave clock modes |
| | Front panel switch-selectable speeds from DC (0bps) to 2.048Mbps |
| | System Diagnostics |
| | Local/remote Loopback |
| | Interchangeable Interfaces |
| | Pass-through controls |
| | Single/multimode optics |
| | 850nm, 1310nm and 1550nm |
| | Power/Modem Redundancy (optional) in Rack Assembly |
| | Stand alone/Rack mount |
| | 120VAC, 240VAC and -48 VDC |

Description

Offering more than more than 15 field interchangeable interfaces, the Canoga Perkins 2240 is an unusually versatile Async/Sync/T1/E1 Fiber Optic Modem.

The Canoga Perkins 2240 operates asynchronously at speeds from DC (0bps) to 1.024Mbps and synchronously between DC and 2.1Mbps. Operating modes and internal clock rates are controlled by an eight-position DIP switch located on the front panel. The 2240 has a built-in clock synthesizer which generates dozens of common clock rates and allows for optional custom-selected oscillators to generate special clock rates.

As a versatile modem, the Canoga Perkins 2240 provides multiple secondary data channels that can be used for alarms and interface handshaking control signals.

To better fit a specific application, the Canoga Perkins 2240 fiber modem is available in either standard or long distance versions. Standard versions are 850nm or 1300nm.Long distance versions are 1310nm high power laser and 1550nm extended distance laser.

For applications that require multiple modems, the 2201 fiber modem Rack Assembly holds up to ten 2200 Series Modems. Standard features of the 2201 include audio, visual and dry contact alarms in the event of power supply failure. Redundant power is also available as an optional feature.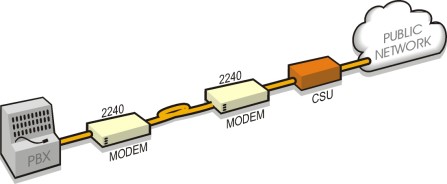 Product Configuration
Configure the 2240 fiber modem by substituting the following in the model designation:

"XXX" with your choice of an Interface option listed below
"XX" with your choice of crystal option listed below

Asynchronous to 1.5 Mbps NRZ, Synchronous to 2.1 Mbps

| | |
| --- | --- |
| MODEL | DESCRIPTION |
| | |
| Rack-Mount Modem | No Power Supply |
| Canoga Perkins 2240-R-XXX-01-XX-0 | 850nm, MM, 15dB, LED, ST |
| 2240-R-XXX-16-XX-0 | 1310nm, SM/MM, 13dB, LP Laser, ST |
| 2240-R-XXX-17-XX-0 | 1310nm, SM/MM, 13dB, LP Laser, FC/PC |
| 2240-R-XXX-11-XX-0 | 1310nm, SM/MM, 25dB, HP Laser, ST |
| 2240-R-XXX-13-XX-0 | 1310nm, SM/MM, 25dB, HP Laser, FC/PC |
| 2240-R-XXX-21-XX-0 | 1550nm, SM, 25dB, XD Laser, ST |
| 2240-R-XXX-23-XX-0 | 1550nm, SM, 25dB,XD Laser, FC/PC |
| | |
| Stand-Alone Modem | 115 VAC Power Supply |
| Canoga Perkins 2240-S-XXX-01-XX-1 | 850nm, MM, 15dB, LED, ST |
| 2240-S-XXX-16-XX-1 | 1310nm, SM/MM, 13dB, LP Laser, ST |
| 2240-S-XXX-17-XX-1 | 1310nm, SM/MM, 13dB, LP Laser, FC/PC |
| 2240-S-XXX-11-XX-1 | 1310nm, SM/MM, 25dB, HP Laser, ST |
| 2240-S-XXX-13-XX-1 | 1310nm, SM/MM, 25dB, HP Laser, FC/PC |
| 2240-S-XXX-21-XX-1 | 1550nm, SM, 25dB, XD Laser, ST |
| 2240-S-XXX-23-XX-1 | 1550nm, SM, 25dB, XD Laser, FC/PC |
| | |
| Stand-Alone Modem | 230 VAC Power Supply |
| Canoga Perkins 2240-S-XXX-01-XX-2 | 850nm, MM, 15dB, LED, ST |
| 2240-S-XXX-16-XX-2 | 1310nm, SM/MM, 13dB, LP Laser, ST |
| 2240-S-XXX-17-XX-2 | 1310nm, SM/MM, 13dB, LP Laser, FC/PC |
| 2240-S-XXX-11-XX-2 | 1310nm, SM/MM, 25dB, HP Laser, ST |
| 2240-S-XXX-13-XX-2 | 1310nm, SM/MM, 25dB, HP Laser, FC/PC |
| 2240-S-XXX-21-XX-2 | 1550nm, SM, 25dB, XD Laser, ST |
| 2240-S-XXX-23-XX-2 | 1550nm, SM, 25dB, XD Laser, FC/PC |
| | |
| Stand-Alone Modem | -48 VDC Power Supply |
| Canoga Perkins 2240-S-XXX-01-XX-3 | 850nm, MM, 15dB, LED, ST |
| 2240-S-XXX-16-XX-3 | 1310nm, SM/MM, 13dB, LP Laser, ST |
| 2240-S-XXX-17-XX-3 | 1310nm, SM/MM, 13dB, LP Laser, FC/PC |
| 2240-S-XXX-11-XX-3 | 1310nm, SM/MM, 25dB, HP Laser, ST |
| 2240-S-XXX-13-XX-3 | 1310nm, SM/MM, 25dB, HP Laser, FC/PC |
| 2240-S-XXX-21-XX-3 | 1550nm, SM, 25dB, XD Laser, ST |
| 2240-S-XXX-23-XX-3 | 1550nm, SM, 25dB, XD Laser, FC/PC |
| | |
| | The loss budgets listed above are guaranteed. Typical loss budgets are 2dB greater. |
| | |
| Interface & Crystal Options | |
| | |
| Interface Options | Description |
| Canoga Perkins 2240-S-XXX-XX-XX-X | |
| Insert Interface code in the model number | 430 - RS530/DB25 |
| | 432 - RS423/232/DB25 w/ Control |
| | 422 - RS422/DC37 w/ Control |
| | 435 - V.35/MRC34 w/ Control (Special Situations Only) |
| | 436 - V.35/MRC34 w/ Control |
| | 4B1 - 1.544/2.048 T1/E1 DA15 |
| | 4B2 - 1.544/2.048 T1/E1 /TERM STRIP |
| | 4B3 - 1.544/2.048 T1/E1 /BNC |
| | BN - TTL/BNC |
| | TW - 422/TWIN AX |
| | TW8 - MIL 188-114/TWIN AX |
| | T22 - 422 / 5 Conn TWIN AX |
| | T88 - MIL 188-114 / 5 Conn TWIN AX |
| | D88 - MIL 188-114 /DC37 |
| | *MC1 - Multi-channel; (1) RS-449 (DC-37), (1) RS-423 (DB-25) |
| | *MC2 - Multi-channel; (1) V.35 (MRC-34), (1) RS-423 (DB-25) |
| | P53 - Universal Programmable 8-bit Buffered Interface, RS-530/DB25 |
| | Replaces all previous -P and -HP Interfaces (backwards compatible) |
| | 4PB - REDUNDANT PADDLE BOARD |
| | 000 - NO INTERFACE |
| | *Includes Adapter, RS423 to RS366 ACE, Male to Female, DB-25 and Adapter, RS 423 to 366 DTE, Male to Female, DB-25 |
| Crystal Options | Description |
| Canoga Perkins 2240-S-XXX-XX-XX-X | |
| | 00 -DEFAULT-NO CRYSTAL |
| | Insert crystal code into the model number. |
| | The 2240 Fiber Optic Modem provides most standard clock rates with its built in oscillators. If a non-standard internal clock rate is required, or call Canoga Perkins and ask for an an Application Engineer |
| Cables and adapter options for use with 2240 multi-channel interface | |
| 2240-366-ACE | Adapter, RS423 to RS366 ACE, Male to Female, DB-25 |
| 2240-366-DTE | Adapter, RS423 to RS366 DTE, Male to Female, DB-25 |
| 2240-OCA-D25-2 | 18" Octopus Cable, (1) DB25M to (2) DB25Fs, Two Control Channels |
| 2240-OCA-D25-3 | 18" Octopus Cable, (1) DB25M to (3) DB25Fs, One Control Channel |
| 2240-OCA-D25-6 | 18" Octopus Cable, (1) DB25M to (6) DB25Fs, No Control Channels |
Diagnostic LEDs
| | |
| --- | --- |
| | Tx Data Activity |
| | Local Sync |
| | Rx Data Activity |
| | Remote Sync |
| | Loopback Active |
| | Power On |
Physical
Dimensions

| | |
| --- | --- |
| | (Stand alone) 12.8"L X 8.5"W X 2.5"H 325mm X 216mm X 64mm |
| | (Rack mount Card) 12.5"L X 7.8"W X 1.06"H 318mm X 198mm X 27mm |

Weight

| | |
| --- | --- |
| | (Stand alone) 3.6 lbs (1.63 kg) |
| | (Rack mount Card) 0.9 lbs (.41 kg) |
Power
Stand alone 20 watts (max)

| | |
| --- | --- |
| | 120VAC + 10%, 47 - 63 Hz |
| | 240VAC + 10%, 47 - 63 Hz |
| | -48 VDC |
Operating Environment
| | |
| --- | --- |
| | Temperature 32oF to 122oF (0 to 50oC) |
| | Humidity 0 to 95% (non condensing) |
Performance
| | |
| --- | --- |
| | Composite Error Rate < 10-10 or better |
Optical Interface
Transmitter

| | |
| --- | --- |
| | LED (850nm) |
| | Laser Diode, (1310/1550nm) |

Fiber Optic Cable

| | |
| --- | --- |
| | 62.5/125 MMF; 8-10/125 SMF |

Connectors

| | |
| --- | --- |
| | ST, FC/PC |
Interfaces (Partial List) Connector(s)
| | |
| --- | --- |
| | RS-232D/423/530 |
| | RS-449 |
| | V.35 |
| | Transparent T1/E1 |
| | Programmable RS-530 |
| | RS-422/MIL 188-114A |

female DB-25
female DC-37
female 34-pin Winchester
female DA-15, two female BNC (G.703 Compatible) or terminal strip
Programmable RS-530
four or five twinaxial
connectors (BJ-77)
Loss Budgets
		850nm	1310nm	 1310nm   1550nm
		LED	Laser	 Laser    Laser
Cable		Std.    Low Pw   High Pw  Extended Distance
62.5/125micron	15db	13db	 25db     N/A
8-10/125micron	N/A	13db	 25db	  25db

Guaranteed Loss Budgets. Typical Loss Budgets are 2dB greater.
*ST is a trademark of AT&T
**Measured at 25oC