Adtran ATLAS 890 4200321L1

ATLAS 890 AC Non-Redundant System
Part Number: 4200321L1
| | |
| --- | --- |
| | Functions as a multi-T1 or T3 IAD, 3/1/0 DACS, ISDN switch, IP router, and Frame Relay concentrator/switch |
| | Supports up to 64 T1/PTI ports |
| | Maximum backplane bandwidth for TDM applications is 30 T1s through the chassis |
| | Switchboard supports circuit switching applications such as intelligent call routing , overbooking and least-cost routing based on phone numbers in dial plan |
| | Supports switched PRI delivered over T3 |
| | Supports E1, PRA, and BRI S/T interfaces for global applications |
| | Net-3 and Net-5 Euro-ISDN protocols supported |
| | Fully redundant AC system provides 13 expansion slots |
| | Fully redundant DC system provides 15 expansion slots |
| | System controller includes 10/100BaseT Ethernet interface for SNMP/Telnet management and IP routing |
| | Includes Frame Relay, PPP, and IP routing |
| | Includes IP router software with support for PPP and Frame Relay Layer 2 protocols |
| | Accepts all ATLAS 800 Series modules |
| | Optional redundant system controller and power supply can provide full system redundancy |
ATLAS 890 AC Redundant System
Part Number:
4200321L2
| | |
| --- | --- |
| | Functions as a multi-T1 or T3 IAD, 3/1/0 DACS, ISDN switch, IP router, and Frame Relay concentrator/switch |
| | Supports up to 64 T1/PTI ports |
| | Maximum backplane bandwidth for TDM applications is 30 T1s through the chassis |
| | Switchboard supports circuit switching applications such as intelligent call routing , overbooking and least-cost routing based on phone numbers in dial plan |
| | Supports switched PRI delivered over T3 |
| | Supports E1, PRA, and BRI S/T interfaces for global applications |
| | Net-3 and Net-5 Euro-ISDN protocols supported |
| | Fully redundant AC system provides 13 expansion slots |
| | Fully redundant DC system provides 15 expansion slots |
| | System controller includes 10/100BaseT Ethernet interface for SNMP/Telnet management and IP routing |
| | Includes Frame Relay, PPP, and IP routing |
| | Includes IP router software with support for PPP and Frame Relay Layer 2 protocols |
| | Accepts all ATLAS 800 Series modules |
| | Optional redundant system controller and power supply can provide full system redundancy |

ATLAS 830/890 Expansion Module
The ATLAS™ 830/890 FXS option module provides eight 2-wire interfaces that can operate in the PLAR, Tandem (MEGACOM), or FXS mode. The Octal FXS module is designed to support PBX/key systems, analog phones and modems. The module provides talk battery, off-hook supervision and balanced ringing for short loop or premises applications.
Using the Octal FXS module in the ATLAS 830 and 890 Series platform enables users to dynamically switch calls or statically map any DS0. The integral switch board provides dynamic, call-by call switching and routing. Calls can be routed based upon the 3-10 digit phone number. The ATLAS switchboard also supports number substitution.
The ATLAS 830 chassis can support up to four Octal FXS modules (32 total FXS ports), while the ATLAS 890 can support up to six Octal FXS modules (48 total FXS ports).
Octal FXS Module 1200338L1

ATLAS 890 DC Non-Redundant System
Part Number:
4200321L3
Functions as a multi-T1 or T3 IAD, 3/1/0 DACS, ISDN switch, IP router, and Frame Relay concentrator/switch
Supports up to 64 T1/PTI ports
Maximum backplane bandwidth for TDM applications is 30 T1s through the chassis
Switchboard supports circuit switching applications such as intelligent call routing ,
overbooking and least-cost routing based on phone numbers in dial plan
Supports switched PRI delivered over T3
Supports E1, PRA, and BRI S/T interfaces for global applications
Net-3 and Net-5 Euro-ISDN protocols supported
Fully redundant AC system provides 13 expansion slots
Fully redundant DC system provides 15 expansion slots
System controller includes 10/100BaseT Ethernet interface for SNMP/Telnet management and IP routing
Includes Frame Relay, PPP, and IP routing
Includes IP router software with support for PPP and Frame Relay Layer 2 protocols
Accepts all ATLAS 800 Series modules
Optional redundant system controller and power supply can provide full system redundancy

ATLAS 890 DC Redundant System
Part Number:
4200321L4
| | |
| --- | --- |
| | Functions as a multi-T1 or T3 IAD, 3/1/0 DACS, ISDN switch, IP router, and Frame Relay concentrator/switch |
| | Supports up to 64 T1/PTI ports |
| | Maximum backplane bandwidth for TDM applications is 30 T1s through the chassis |
| | Switchboard supports circuit switching applications such as intelligent call routing , overbooking and least-cost routing based on phone numbers in dial plan |
| | Supports switched PRI delivered over T3 |
| | Supports E1, PRA, and BRI S/T interfaces for global applications |
| | Net-3 and Net-5 Euro-ISDN protocols supported |
| | Fully redundant AC system provides 13 expansion slots |
| | Fully redundant DC system provides 15 expansion slots |
| | System controller includes 10/100BaseT Ethernet interface for SNMP/Telnet management and IP routing |
| | Includes Frame Relay, PPP, and IP routing |
| | Includes IP router software with support for PPP and Frame Relay Layer 2 protocols |
| | Accepts all ATLAS 800 Series modules |
| | Optional redundant system controller and power supply can provide full system redundancy |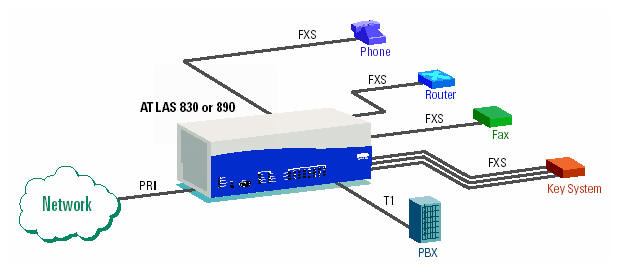 Product Features
| | |
| --- | --- |
| | Provides eight FXS local loop interfaces |
| | All eight interfaces may be mapped to any DS0 on any of the network interfaces or dynamically switched |
| | Loop start, PLAR, and wink delay (for DNIS) operation |
| | Caller ID number supported using FSK |
| | 2-wire interface through an RJ-45 modular connector |
ATLAS 890 AC Non-Redundant System - (4200321L1)
ATLAS 890 AC Redundant System - (4200321L2)
ATLAS 890 DC Non-Redundant System - (4200321L3)
ATLAS 890 DC Redundant System - (4200321L4)
ATLAS 890 System Controller - (1200322L1)
ATLAS 890 AC Power Supply - (1200344L1)
ATLAS 890 DC Power Supply - (1200345L1)